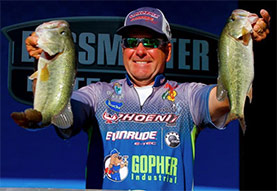 At Gopher Industrial we take great pride in our country and our local community. The thriving Gulf Coast region is not only a great place to work and do business, it is also an incredible place to live, with a rich natural landscape ideal for fishing, hunting, and other outdoor activities. This and other outdoor paradises across the country have spawned the Bassmaster Elite Series, a professional fishing competition. Gopher Industrial is pleased to sponsor two sensations in this high profile, professional fishing event: Bassmaster Elite Anglers Davy Hite and Todd Faircloth.
The Bassmaster Elite Series Is Quintessential Outdoor Fun
Gopher Industrial is honored to sponsor Davy Hite and Todd Faircloth, two major contenders for the national Bassmaster Elite title, because competitive fishing is such quintessential outdoor fun that holds a major place in the hearts of families all across the United States and the world. Being actively involved in good spirited fun and friendly competition is an ideal way for people in small towns and big cities across the nation to connect with their local communities. For Gopher Industrial this type of community involvement is a fundamental part of who we are as a company.
As angler Davy Hite says, "Partnering with Gopher Industrial is a great fit for me. The Gopher cares about their community as much as they care about their customers."
Angler Todd Faircloth echoes his words, "Gopher Industrial is the type of company I like to partner up with because of their core values and community involvement."
About Bassmaster Elite Angler Davy Hite
Bassmaster Elite Series Professional Angler Davy Hite is a native of South Carolina and has spent over twenty years as a professional fisherman. He is a former Bassmaster Classic Champion and also a former FLW Championship Winner. He is a fourteen-time-qualifier in the highly selective Bassmaster Elite Series. He has participated in an impressive 230+ tournaments and has brought home a first place win eight times. He has caught around 9,000lbs of bass in professional events.
Cheering Davy on to victory are his wife, Natalie, and his two children, Parker and Peyton.
About Bassmaster Elite Angler Todd Faircloth
Bassmaster Elite Series Professional Angler Todd Faircloth is a resident of Jasper, Texas. Todd has participated in 182 competitive tournaments over the course of his career and has secured a first place win in four of them. He has caught about 6,000lbs of fish in professional events.
Todd Faircloth is a proud family man whose wife, Angie, and three children, Hudson, Harrison and Helen Claire root for him at his events.
About Bassmaster Elite Series Anglers
Status as a Bassmaster Elite Series Angler is an extremely exclusive, highly sought after designation. There are only about a hundred professional fisherman in the entire country who have earned the title of Bassmaster Elite Series Angler. Gopher Industrial is extremely proud of Davy Hite's and Todd Faircloth's achievements and we are pleased to have the opportunity to sponsor them and cheer them on as they contend at this high profile level.
The Bassmaster Elite Series as a whole is closely tied to life in the Gulf Coast. The Elite Series kicked off their 2015 tournament series on the Sabine River in Orange, Texas. The Greater Orange Area Chamber of Commerce and Stark Cultural Venues sponsored the event. Gopher Industrial looks forward to future Bassmaster Elite events.